PROper Roofs is a highly experienced roofing company that has been providing top-quality roofing services to the Greater Toronto Area for many years. We understand the importance of having a well-performing roof. We know that a poorly maintained roof can significantly decrease the value of your home. However, a well-maintained roof can actually boost the resale value of your property. This is why we are committed to providing exceptional roofing services to homeowners who want to improve the quality and value of their homes.
Whether you need a new roof or want to repair a recurring issue, PROper Roofs is the go-to choice for all your roofing needs. We offer repair, renovation, and installation services to ensure that your home has the best possible roof. Our team consists of highly qualified and experienced roofing experts who are dedicated to delivering the highest quality roofing services at a price that you can afford.
At PROper Roofs, honesty and professionalism are the hallmarks of our success. We pride ourselves on offering every client prompt assistance and outstanding customer service. When you choose to work with us, you can be confident that we will go above and beyond to ensure that you are satisfied with the results. We believe that our clients deserve the best, which is why we always strive to exceed their expectations.
If you're thinking about repairing or replacing your roof, contact PROper Roofs to schedule a visit. We'll be more than happy to assist you in any way we can. Our team will take the time to assess your needs and provide you with a personalized solution that meets your specific requirements. We are committed to providing exceptional roofing services that exceed our clients' expectations, and we look forward to the opportunity to work with you!
At Proper Roofs, we take pride in providing our customers with high-quality roofing services that are built to last. As a leading roofing business in Toronto, we understand the importance of proper installation, attention to detail, and safety on the job site.
Our name, Proper Roofs, represents our commitment to three key principles. First and foremost, we adhere strictly to manufacturer's instructions when installing every roof, ensuring that no corners are cut in the process. For shingle roofs, we install them in a high-wind nail application pattern by default, at no extra charge. Additionally, we provide all necessary layers of underlayment membranes to ensure maximum protection for your roof. Our dedication to proper installation not only provides our customers with a limited 15-year warranty, but also ensures that they benefit from the manufacturer's warranty, which typically lasts much longer and, in many cases, a lifetime.
Secondly, we understand the importance of a roof that not only functions properly but also looks beautiful. Our team takes pride in taking the time to ensure that every curve is perfectly straight, because we believe that the quality of the roof is linked to its cosmetic appearance. We understand that a contractor who cuts corners on aesthetics may also cut corners on quality, and we refuse to compromise on either. When you choose Proper Roofs, you can be confident that your roof will look great from every angle.
Finally, we take safety seriously. Safety is not only important on the roof but also on the ground. All of our crew members possess mandatory Working at Heights licenses and are covered by WSIB, ensuring that they are fully trained and qualified to work safely and effectively. Our commitment to safety guarantees a stress-free and productive experience for both our team and our customers.
When you choose Proper Roofs, you can be confident that you are choosing a team of professionals who are committed to providing you with the best possible roofing services. From proper installation to attention to detail and safety on the job site, we are dedicated to delivering exceptional results that will protect your home for years to come.

The best way to get in touch with us is over the phone. Outside of business hours, or if the matter is not urgent - you can fill out the form below and our specialist will get back at you within 24 hours.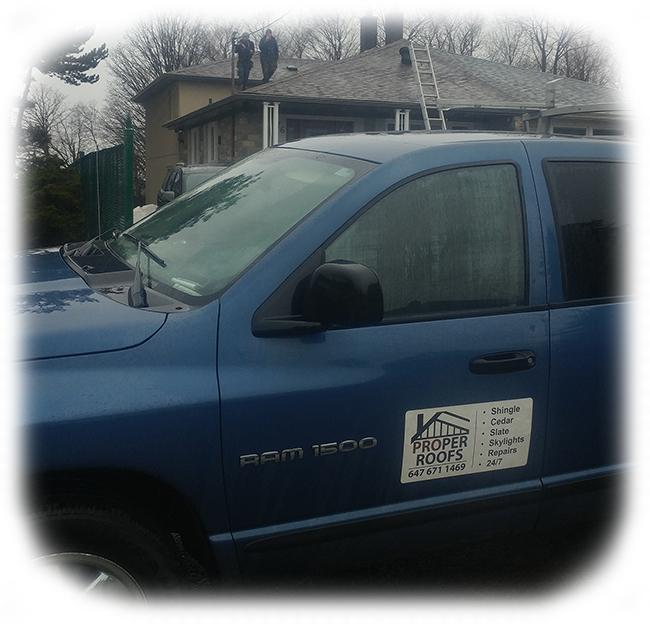 Feel free to contact us or fill out the estimate form and we will get back at you as soon as possible.